Ornellaia Le Serre Nuove
ORNELLAIA LE SERRE NUOVE 2016 - Toscana IGT Rosso - Italy - Red Wine
Sale price

RM 320.00

Regular price

RM 0.00
Fast Delivery. With Order Tracking
Share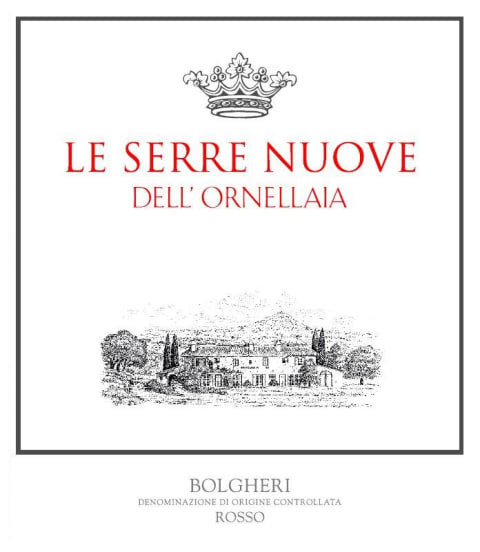 Country : Italy
Region : Toscana
Type : Red
Year : 2016
Volume : 75 cl
WINE MAKER TASTING NOTE
: "Le Serre Nuove dell' Ornellaia 2016 benefits again from an exceptional vintage that highlights all the features of Bolgheri's exceptional climate. Dark in colour, the wine shows a charming nose of perfectly ripe red fruit and spices. The palate is rich and well-rounded with beautiful velvety-textured tannins that coat the palate. A wine that combines immediate pleasure and great ageing capacity" Axel Heinz – May 2018
VINIFICATION & AGEING :
The different varietals were fermented separately in small steel tanks to maintain their varietal characteristics intact. The alcoholic fermentation was followed by malolactic fermentation, again in steel tanks. The wine was then aged for 10 months, partly in barrique used for Ornellaia and partly in cement tanks, to obtain the perfect balance between tannic structure and an expression of fresh fruit.
ABOUT THE WINE
: Made with the same passion and attention to detail as Ornellaia, Le Serre Nuove dell'Ornellaia is a true "second vin". A blend of Merlot, Cabernet Sauvignon, Cabernet Franc & Petit Verdot, it combines approachability and a depth of flavour with proven ageing potential.
ABOUT TERROIR :
Semi-concealed in the foothills near Bolgheri, Ornellaia lies just a few kilometres from the Mediterranean coast. During the summer months, the cool sea breeze caresses the vineyards and nearby olive groves, while during the winter the hills provide protection from the cold north winds. Ornellaia believes that a wine should be the most authentic expression of the terroir from which it originates and it is right here that, together with the maritime climate, the heterogeneous nature of the land and the estate – of marine, alluvial and volcanic origin – creates a distinct environment where red and white varieties can best express themselves.The endless parcels of vineyards fit well into this unspoilt landscape like tesserae in a large mosaic, creating a work of extraordinary beauty, complexity and elegance in a truly unique place. Experience, expertise and determination have played their part in enhancing Ornellaia's quality and reputation, but it is the estate itself that is a constant source of inspiration and which constantly suggests new and exclusive ways to capture its great generosity.
ABOUT SUSTAINABILITY
: Sustainable viticulture is an integral part of our production philosophy and is based on the economic longevity of structures and territories, the qualitative production and the enhancement of the heritage and landscape of the Bolgheri area along with its historical, cultural and ecological aspects. At Ornellaia, the concept of environmental sustainability, understood as the use of the soil's natural fertility, can be identified in various practices and limited measures implemented in our vineyards, with the aim of promoting the biodiversity of the species cultivated. These include the protective management of the soil to maintain its integrity and fertility, management of the plant to achieve self-regulation and the adoption of defence systems with a low environmental impact that stimulate the vine's natural defences. Minimising interventions and external inputs both in the vineyard and in the cellar makes it possible to bring out the "terroir" and the capacity for expression of every single vineyard. All this is possible thanks to a human heritage of inestimable importance, which grows every day thanks to the encouragement and appropriate training of in-house staff.
THE WORLD OF OENELLAIA