Oddero
ODDERO - BAROLO CLASSICO DOCG 2016 - Italy - Red Wine " CERTIFIED ORGANIC "
Sale price

RM 480.00

Regular price

RM 0.00
Fast Delivery. With Order Tracking
Share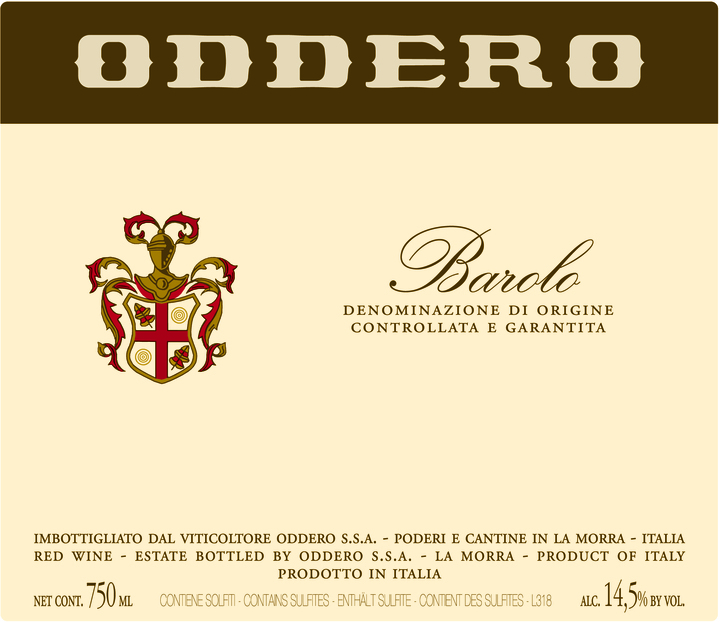 Country : Italy
Region : Piedmonte
Type : Red
Year : 2016
Volume : 75 cl
SENSORY CHARACTERISTICS
: Brilliant garnet-red color, with warmer tinges developing over time. Unmistakeable bouquet, very pleasant, intense yet ethereal, very persistent, at times spiced, with aromas of truffles, liquorice and dried flowers. Dry taste, with important, full tannins. Maturing : The wines coming from the different vineyards are aged separately in 40, 60 and 75 –hectoliter Slavonian and Austrian oak barrels for 30 months. The wines are blended in the spring, then bottled at the end of the summer and aged in the bottle for another 6 months before release on the market.
WINEMAKING
: Rigorous manual selection of grapes in the vineyard. Fermentation and maceration in stainless steel for 20 days at a controlled temperature of 28-29°C, followed by malolactic fermentation. They occur separately for the three vineyards, as well as the malolactic fermentation
ABOUT THE WINERY
: Location: Monforte d'Alba, Plot 2, Sub-plots 178, 407, 406 Characteristics: 380 meters above sea level, southwestern exposure, 2.7 x 0.9 meters spacing, 4,500 vines/hectare density, Guyot upward-trained vertical-trellised training system.
ORGANIC CERTIFICATION : Since 2008 we have started to experiment with organic practices of running our vineyards. The first step was to completely eliminate the chemical weed control and mechanically control the weeds on the row of vine stocks, in all our vineyards. There are also copper and sulphur to combat common fungal vine diseases, although there is some concern surrounding the use of copper, a metal that tends to accumulate in the soil, and we hope that science will soon come up with a valid substitute which is both effective against Plasmopara viticola and sustainable in terms of environment and health. Pyrethrum and sexual confusion against insects are good agronomic practices for treating the soil after harvest, as are the use of organic fertilisers and manure, and grassing between the rows with selected seed mixes and green manure. Today all our Nebbiolo, Barbera and Dolcetto vineyards are certified organic (Valoritalia IT BIO 015), while our Moscato and Riesling vineyards are sustainably managed.