Chateau Troplong Mondot
CHATEAU TROPLONG MONDOT 2007 - Saint-Emilion - 1er Grand Cru Classe B - France - Red Wine
Sale price

RM 690.00

Regular price

RM 0.00
Fast Delivery. With Order Tracking
Share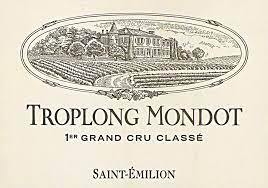 Country : France
Region : Saint-Emilion
Type : Red
Year : 2007
Volume : 75 cl
WINE CRITICS : 92 points Robert Parker's Wine Advocate
Outer quote mark Tasted at BI Wine & Spirits' 10-Years-On tasting, the 2007 Troplong-Mondot has long been a Saint Emilion that has surpassed the vintage. It has a sophisticated bouquet with crushed strawberry, fresh mint and subtle gamy aromas. The palate is medium-bodied with slightly grainy tannin on the entry, the fruit a little darker and the personality a little broodier than the Canon-la-Gaffelière, gently fanning out on the almost Pomerol-like finish. Probably à point, but it will give another decade's worth of pleasure. (NM) Inner quote mark (6/2017)
91 points Stephen Tanzer's International Wine Cellar
Outer quote mark Deep red-ruby. Expressive aromas of musky black cherry, cassis and bitter chocolate. Plush, pliant, round and sweet, with smoky blueberry, mineral and bitter chocolate flavors complicated by tar and licorice. Finishes long, with very suave tannins. This seems almost drinkable now but has the concentration and structure to reward aging. (ST) Inner quote mark (7/2010)
90 points Wine Spectator
Outer quote mark Shows blackberry and blueberry on the nose, with hints of wet earth. Medium- to full-bodied, with slightly chewy tannins and lots of new wood. Really polished. (JS) Inner quote mark (3/2010).
ABOUT THE WINE
: Under the direction of Christine Valette-Parienté since 1980, wine quality has experienced a striking improvement, even in non-vintage years. The wines enjoy a long maturation in oak barrels (at least 75% new wood) for a period of time which depends on the structure of the vintage, but can be up to 24 months. Richly coloured, Troplong Mondot's wines develop complex aromas of liquorice, blackcurrants and spices. Incredibly profound and concentrated, they boast exceptional aging potential. Grape variety: 5% Cabernet Sauvignon, 90% Merlot, 5% Cabernet franc
ABOUT THE WINERY :
This attractive 18th century Château was promoted to the ranks of Premier Grand Cru Classé in Saint-Émilion in 2006, reflecting Troplong Mondot's growing reputation for quality. It was the culmination of almost three decades of hard work by Christine Valette and her husband Xavier Pariente, investing in the vineyard and modernising the winery and cellars in both 1990 and 2008.
After more than 80 years in the hands of the Valette family, however, Troplong Mondot was purchased by French insurance firm SCOR in 2017. It has since brought in new management – Aymeric de Gironde, the former managing director of Cos d'Estournel – and has made massive investments in the cellar, as well as purchasing land from neighbouring estates. This is one to watch. It is also one to visit with an upmarket B&B offering magnificent views towards the medieval town of Saint-Émilion. Its Michelin-starred restaurant was due to reopen in 2020 after a two-year refurbishment.
ABOUT THE WINE CELLAR :
Troplong-Mondot has been known for its opulent and rich style but this may be a thing of the past: since changing hands in 2017, the wines are now being picked earlier and the use of new oak has fallen, bringing a fresher and more energetic style. Instead of being the last to pick, it was the first in 2018 which caused a few raised eyebrows, but the decision was rewarded with high praise from the critics.
Its second wine, Mondot, is typically 100% Merlot and is sold when it is bottled, rather than en primeur, and offers an affordable taste of the Troplong style.
DEGUSTATION OF TROPLONG MONDOT 2007
INTERVIEW WITH AYMERIC DE GIRONDE