Chateau Pontet Barrail
CHATEAU PONTET BARRAIL MEDOC CRU BOURGEOIS 2015 - France - Red Wine
Sale price

RM 240.00

Regular price

RM 0.00
Fast Delivery. With Order Tracking
Share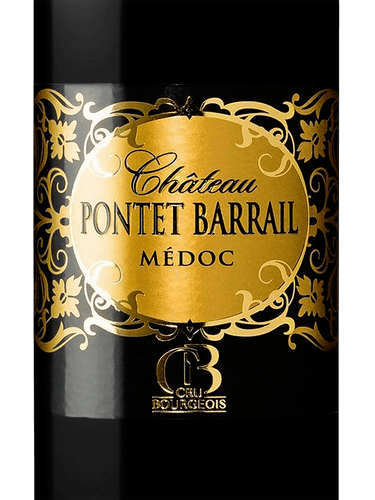 Country : France
Region : Bordeaux - Medoc
Type : Red
Year : 2015
Volume : 75 cl
TASTING NOTES
: Garnet color with ruby edge. Open bouquet with essences of toast, sweet spices, figs and ripe black fruits. The attack on the palate is round then the evolution is silky accompanied by tannins well enveloped in flesh, associating volume and very present fruity notes, giving a fine, elegant whole and ending with a long and very aromatic finish.
ABOUT THE WINERY :
The Bibey family has been in the Médoc for many generations. Having settled in Bégadan, Jean-Mathieu Bibey, Jérôme's grandfather, began cultivating vines as a farmer. At the time, he took the grapes to the village cooperative to produce chateau Pontet Barrail, as polyculture and livestock farming were de rigueur. The vineyard has been planted on clay and limestone soil. The oldest vines is from 1937! The big changment came in 1988 when Yves decided to make himself the wine. So a winery has been built and the storie of chateau pontet barrail could start with a new ambition. The philosophy "My quality: My Nature"
Very close to nature from an early age, respectful of the traditions instilled by his grandfather, Jérôme has always had a special relationship with nature. Produced by listening to what nature has imposed. Jérôme decided to evaluate nature, the vine plant, the soil, understand the role of trace elements against fungal diseases and better understand this ecosystem. Always learning, observing the climatic events of the 2013 vintage, the hail in 2011, the frost in 2016 has helped him grow. Today, he forbids the use of synthetic products in the vineyard. The fertilisers are organic. Weeding is done mechanically, no insecticide is used, the use of sexual confusion is widespread. Crop-protection sprays are based on copper sulphate. The production sites are now committed to the EMS and members of the CIVB's ISO 14001 certified association, and they are HVE3 certified.
ABOUT MEDOC WINE REGION
ABOUT PONTET BARRAIL