Chateau Leoville Poyferre
CHATEAU LEOVILLE POYFERRE 2005 - Julien 2eme Grand Cru Classe - France - Red Wine
Regular price

RM 1,150.00

Sale price

RM 1,150.00

Regular price

RM 0.00
Fast Delivery. With Order Tracking
Share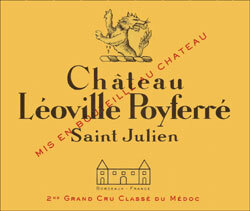 Country : France
Region : Bordeaux - Saint-Julien
Type : Red
Year : 2005
Volume : 75 cl
WINEMAKER NOTES
: (Our tasting notes – 2022) Shiny and limpid, the color of the 2005 vintage is a dark garnet with vermeil highlights. Concentrated notes of toast and jammy black fruit emerge, followed by hints of cedar and eucalyptus that add a touch of freshness. Full and plump on the palate, the tannins still have some grip, but the texture of the wine remains silky. Retro-olfaction confirms the aromas perceived on the nose: jammy blackcurrant, delicate oak, and blonde tobacco. This exhilarating vintage offers extraordinary aromatic persistence with a fresh finish.
WINE CRITICS 96 points James Suckling
Outer quote mark Very clear and translucent with currants, blueberries and fresh mushrooms. Full-bodied with velvety tannins that are layered and beautiful. Together and polished with plushness and beauty. Inner quote mark (2/2021).
"WHAT IS ESSENTIAL IS INVISIBLE TO THE EYE"
95 points Decanter
Outer quote mark A gorgeous wine; mouthwatering, clear black fruits but with feathery touches of dried sage and chargrilled oak. The embers are still burning and the whole thing is just gearing up to its drinking window. Still fairly closed, this is a long-ageing vintage that is just starting to soften at 13 years old. I love how the tannins are so effortlessly soft and elongated, while still making their presence felt. It dances across the palate and, like the 2011 vintage, feels very much a reflection of its appellation. (JA) Inner quote mark (6/2018)
94 points Wine Enthusiast
Outer quote mark Hugely concentrated and packed with tannins, this wine shows considerable amounts of dark, extracted fruit. It wins out on impressive power, driving the fruit through the tannins, giving great richness. (RV) Inner quote mark (6/2008)
93 points Robert Parker's Wine Advocate
Outer quote mark Léoville Poyferré's dense ruby/purple 2005 is soft, round and juicy, with lots of blackcurrant fruit, plum and Asian spice. It is medium to full-bodied and, along with Léoville Las Cases and Saint-Pierre, probably one of the best St.-Juliens I tasted in this retrospective. It is surprisingly supple and accessible. (RP) Inner quote mark (6/2015)
93 points Stephen Tanzer's International Wine Cellar
Outer quote mark Saturated ruby-red. Deeply pitched aromas of black cherry, currant and coffee. Sweet, silky and full, but with lovely ripe acidity to frame the dense black fruit, mocha and mineral flavors. Showing a glossy aspect to its fruit that is exhilarating, even if this deep, fairly tannic wine is a bit sullen at present, despite showing excellent back-end breadth. (ST) Inner quote mark (5/2008)
93 points Vinous
Outer quote mark The 2005 Léoville-Poyferré really needed a number of hours to come together. An old school, powerful Saint-Julien, the 2005 Léoville-Poyferré packs a serious punch. Inky dark red fruit, iron, smoke, cedar, mint and white pepper lend striking aromatic depth. This virile, tannic Saint-Julien is a bruiser, but it is also pretty impressive. Tasting it feels like taking a step back in time. (AG) Inner quote mark (4/2021)
92 points Wine Spectator
Outer quote mark Dark ruby red in color, with aromas of currant, blackberry, toasty oak and light cappuccino. Full-bodied, with ultrafine tannins and a beautiful, caressing aftertaste. Touches every part of the palate. (JS) Inner quote mark (3/2008)
ABOUT THE WINERY
: Second Classified Growth in 1855, located in the prestigious appellation of Saint-Julien. Born from 80 hectares of exceptional terroir and the ancestral savoir-faire of our teams, nurtured by the Cuvelier Family since 1920. The history of a Second Grand Cru Classé in 1855 : Château Léoville Poyferré, established in 1840 when Baron Jean-Marie de Poyferré added his name to Léoville.
ABOUT THE TERROIR
: Nothing tells a greater story than a bottle of wine. The vines take root in the soils providing the immutable backdrop, endowing the wines with their unique qualities. Léoville Poyferré is anchored in one of the most intimate appellations of the Médoc: Saint-Julien.
Scattered across the appellation as far as the eye can see, like stars pebbling the evening sky, the secrets of Saint-Julien are held within their most precious gems: graves. Carried along by the alluvial deposit, these stones were polished by the Gironde as it formed the iconic Estuary that divides the viticultural landscape of Bordeaux.
The 920 hectares of the appellation have become a collection of manicured gardens that provide a myriad of attributes. They are the wealth of our terroir, and offer us the most beautiful pallet with which to compose our wines.
ABOUT VINIFICATION A masterful touch
Once the grapes arrive at the vat house, they are sorted twice: first by hand on tables before destemming, then a second time by optical sorting machine before crushing to eliminate any vegetal matter. In order to appreciate and make the most of the diversity of our vineyard, vinifications are carried out plot-by-plot and by grape variety in the 57 thermo-regulated stainless steel tanks, of which 27 are double-walled. These 27 tanks allow pre-fermentation cold macerations that generally last about a week. This technique enhances the purity of the fruit aromas and the intensity of the color. To further protect this "red gold", the property adopted a new bio-protection system in 2018: non-saccharomyces yeast is added to the must, thus eliminating the traditional use of SO2 at this stage.
Pump-overs are carried out daily for each of our tanks until the end of alcoholic fermentation. Day after day, this transformation of sugar into alcohol is guided by Château Oenologist Isabelle Davin and Cellar Master Didier Thomann until each tank reaches its full aromatic potential. Temperature, duration of extraction, quantity of oxygen, and frequency of pump-overs are the decisive parameters that will be guided by their masterful touch.
BARREL AGING Experience and creativity, the ideal blend
Once the vinifications have finished and the wines run off from their skins, the ultimate metamorphosis occurs : grape skins are pressed to obtain the "press wine", the final expression of a wine's power. The wood can now envelope this superb libation, and carry it to its destiny. Our wines are aged exclusively in French oak barrels for 18 months. Particular care is taken in the choice of our barrels to obtain subtle oak aromas in harmony with the Léoville Poyferré style.
A perfect osmosis between the wood and the wine must occur. In order for this to happen, wines undergo their malolactic fermentation in barrel, resulting in the stability and suppleness of our wines.
A crucial step in the creation of our wine is blending, our winemaking team's quest for the perfect harmony. Our different plots of vines, each with their own personality, are like notes of music with which to compose a beautiful melody. This union gives birth to a symphony, the veritable spirit of Château Léoville Poyferré.
TASTING VINTAGE 2006 WITH WINE EXPERTS
" WHAT IS ESSENTIAL IS INVISIBLE RO THE EYES "