Chateau Leoville
CHATEAU LEOVILLE LAS CASES 2010 - Saint-Julien - 1er Grand Cru Classe- France - Red Wine
Regular price

RM 2,150.00

Sale price

RM 2,150.00

Regular price

RM 0.00
Fast Delivery. With Order Tracking
Share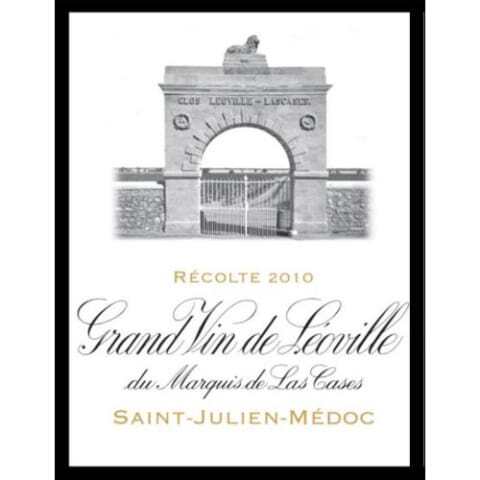 Country : France
Region : Saint-Julien
Type : Red
Year : 2010
Volume : 75 cl
WINEMAKER NOTES :
Léoville-Las Cases is often referred as the sixth First Growth and Jean-Hubert Delon has once again demonstrated that, if the 1855 classification were to be redrawn, he would most probably be in the top league. The 2010 is dark in colour, with lovely concentration on the nose, lots of fresh cassis and blackberries, good focus in mid-palate and fine tannins throughout. It is a bit lighter and fresher in style than the 2009 but with an amazing purity and a never-ending finish. This is a keeper! (82% Cabernet Sauvignon, 10% Merlot, 8% Cabernet Franc) 100 points Decanter
Outer quote mark Layered, textured, deep, cigar box, cassis and earth, managing to simultaneously stretch out, and burrow down. The edges open slowly but surely and seductively. Still inky in colour, this has all the powerful texture and tannic architecture that you expect from Leoville, and unlike the 2009 at its ten year point it is still keeping plenty of secrets close to its chest. But you are going to want to be around when it fully opens. (JA) Inner quote mark (1/2020)
WINE CRITICS 100 points Wine Enthusiast
Outer quote mark A hugely powerful wine, full of dark, brooding tannins. It's a wine for seriously long-term aging, a sculptural vision of classic Bordeaux structure with with classy, ripe blackberry fruits. It has fresh acidity and an immense full-bodied character, cut through with mineral acidity. A great wine, with great potential. *Top 100 Cellar Selections of 2013, No. 21* (RV) Inner quote mark (3/2013)
99 points James Suckling
Outer quote mark The aromas to this wine have a beautiful purity of raspberries, blueberries, currants, and flowers that follow to a a full body, with super integrated tannins that are like the finest silk in texture. It shows elegant and pretty fruit character and a reserve and finesse of such great years as 1989 and 1995. The bright strong acidity gives a crunchy and creamy texture. This has a tiny bit more Cabernet Sauvignon in the blend than 2009. Inner quote mark (11/2013)
99 points Wine Spectator
Outer quote mark Stunning and pure from the get-go, with intense cassis and blackberry fruit. Ultimately takes a slightly austere approach, with a wrought-iron structure driving along while pastis, black tea, licorice snap and asphalt notes course underneath. Long and loaded with grip, this remains remarkably fine-grained. A very chiseled Cabernet that is wonderfully precise and incredibly long. *Collectibles* (JM) Inner quote mark (3/2013)
96 points Robert Parker's Wine Advocate
Outer quote mark The 2010 is a quintessentially elegant, classic wine of Bordeaux -- firm, rigid, perhaps slightly lighter than most of the other St.-Juliens, but stylish, potentially complex, and reminiscent of the style of the 1986, but more concentrated and powerful. It is a blend of 82% Cabernet Sauvignon, 10% Merlot and 8% Cabernet Franc with a normal pH of 3.56. It was raised in 75% new oak and the alcohol came to 13.7%. What I like about tasting at Las Cases is that Jean-Hubert Delon opens one bottle in my presence, and has another already decanted four hours in advance to compare. It is nearly unanimous on each visit that the decanted wine shows better, which probably gives you some insight into the aging potential of Las Cases. It is certainly one of Bordeaux's longest-lived wines, and seems to have more and more of a character resembling Lafite Rothschild more than its nearby neighbor, Château Latour. (RP) 96+ Inner quote mark (2/2013)
96 points Vinous
Outer quote mark The 2010 Léoville Las Cases has a clean and precise bouquet, beautifully focused with blackberry, melted tar, cigar humidor and crushed stone aromas. It gains intensity with aeration without ever losing its precision. The palate is medium-bodied with lithe tannins, a fine bead of acidity, a sense of abiding symmetry and detail as it fans out on the mineral-driven finish. This is an absolutely awesome Saint-Julien with a long life ahead. Tasted from an ex-château bottle at the BI Wines & Spirits 10-Year On tasting. (NM) Inner quote mark (4/2020)
95 points Stephen Tanzer's International Wine Cellar
Outer quote mark Bright ruby-red. Vibrant nose combines black and blue fruits, lead pencil and crushed-stone minerality, with a note of kirsch emerging with air. Utterly silky in texture yet extremely backward, with a medicinal quality keeping the penetrating dark berry flavors under wraps today. (ST) 95+ Inner quote mark (7/2013)
94 points John Gilman
Outer quote mark The grand vin in 2010 at Leoville Las Cases is outstanding and one of the top wines on the Left Bank this year, but it is a wine of immense power and concentration and will need a long time in the cellar to fully unfold. At 13.7% alcohol, the wine is ripe, but certainly not overripe and most impressive in its purity and focus, as it offers up a very, very deep nose of sappy black cherries, dark chocolate, tobacco leaf, espresso, a great base of soil (particularly for this vintage), smoke and plenty of spicy new oak. On the palate the wine is deep, full-bodied and very powerful, with rippling muscles, ripe, well-integrated tannins, great depth at the core and a very, very long, focused and slightly heady finish. This is a big-boned and very ripe Las Cases that should last at least 75 years, and I like it better than the also very powerful 2009, as the 2010 seems to have harnessed its power much better and integrated it into a more seamless whole. The 2010 is a beautifully made wine, but of the last three vintages at this estate, there is little doubt in my mind that the utterly profound 2008 Leoville Las Cases is the greatest wine of the trio, and perhaps the best wine made at this fine estate in a generation! 94+ Inner quote mark (3/2011)
ABOUT A STORY THAT STARTED IN THE 17TH CENTURY
One of the oldest Medoc estates, Domaine de Léoville belonged to some of the wealthiest and most influential noble French families before it was acquired by the Las Cases family. The estate was split up between 1826 and 1840 as a result of the French Revolution. (Expropriation of emigrants' property and constitution of egalitarian redistribution). Château Léoville Las Cases was created, thanks to a kind of birthright, from 3/5 of the original estate and the heart of the domain.
The Grand Vin's current terroir has therefore been at the historic heart of the original terroir since the 17th century. Pierre Jean, Adolphe and Gabriel de Las Cases were successive heirs to the property until 1900, when Théophile Skawinski purchased a share in the estate and became its manager. Léoville Las Cases has now been managed by the same family since the late 19th century and is today represented by Jean-Hubert Delon, sole owner of the Château and proprietor of Château Potensac in the Medoc and Château Nénin in Pomerol.
AN EXCEPTIONAL, UNIQUE TERROIR
The Clos encases a terroir of very great complexity. It is mainly composed of Quaternary gravel ("graves") over gravelly sand and gravelly clay subsoils. We also find clays which are variably deep and compact, but which sometimes break through to the surface. The proximity of the Gironde River has created the wide diversity of soils, formed over various geological periods by successive superimpositions.
The river also creates a special microclimate that enables very early ripening of the grapes and protects the vineyards from frost. This cameo of geological combinations influences the growth of the vine and the composition of the grapes: regular but restricted water supply and a very low intake of nutrients bring out the best in the great Cabernet Sauvignons and Cabernet Francs which usually achieve their full potential whatever the vintage. The incomparable terroir gives this great wine its unique personality.
LEOVILLE LAS CASES
VERTICAL by JAMES SUCKLING & LEOVILLE LAS CASES
EXPLANING CHATEAU LEAVILLE LAS CASES