Chateau Latour
CHATEAU LATOUR 2012 - Pauillac - 1er Grand Cru Classe A - France - Red Wine
Regular price

RM 3,800.00

Sale price

RM 3,800.00

Regular price

RM 0.00
Fast Delivery. With Order Tracking
Share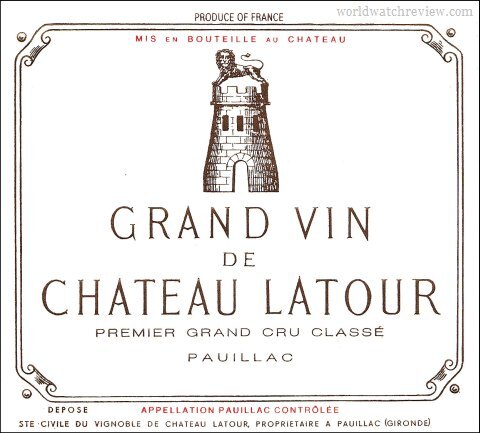 Country : France
Region : Bordeaux - Pauillac
Type : Red
Year : 2012
Volume 75 cl
WINEMAKER NOTES : :
"The colour is dark with a beautiful intensity.The nose is fruity, refined, ripe and extremely expressive. On the palate, the wine is rounded and smooth, spicy and very aromatic. It evolves pleasurably towards a delicious finale with fine tannins. The 2012 Vintage: 2012 was a rather late vintage, marked by considerable spring rainfall and mineralisation followed by significant summer drought. Except for a very cold first fortnight in February, the winter was mild - even over 20°C in March - and wet. The Cabernet Sauvignon bud break was recorded on 3rd April. High spring precipitation was mainly concentrated in April (20 days of rain for an overall rainfall of 174mm). Cryptogamic pressure on the vineyard was contained by generally cool temperatures and a late start of the vegetative cycle. May was dry with very variable temperatures whereas June was rainy and mild. Despite this, the Cabernet Sauvignon vines flowered evenly on 6th June. The veraison began on 19th July and continued in extremely dry conditions in August." On the nose, this Château Latour is pure with a round andelegant fruitiness. The mouth is silky with great density and avibrant fruit. The tannins are meltingly soft.

BLEND
90.2% Cabernet Sauvignon, 9.6% Merlot, 0.2% Petit Verdot
WINE CRITICS 97 points Decanter
Outer quote mark This will be by far the biggest release since Latour brought in the new system, as the 2012 has not been on the market before. It's a good one to start with as this is a vintage where the drinking window is starting to come into view. This is pure liquorice, graphite and profoundly dark fruits, gourmet brushed damson and crushed stones, with a silky, appealingly open texture. The tannins are as bracing as you hope for from this estate, not giving an inch yet, but there is air between them and the structure is starting to loosen up. Harvest from September 24 to October 16, under rainy conditions after a super hot summer and early September that ensured the grapes stayed in good condition, but turned the concentration from impenetrable to an altogether more approachable style. (JA) Inner quote mark (2/2020)
96 points Robert Parker's Wine Advocate
Outer quote mark Medium to deep garnet colored, the nose slowly, measuredly emerges with notions of preserved Morello cherries, baked blackcurrants and blackberry compote, giving way to nuances of pencil shavings, unsmoked cigars, Chinese five spice and sandalwood plus ever so subtle hints of cardamom and eucalyptus. Medium-bodied, the palate delivers mouth-coating black and red fruit preserves with a firm, grainy-textured frame and fantastic freshness, finishing with a veritable firework display of lingering spices and minerals. This is a more restrained, relatively elegant vintage of Latour that may not have that "iron fist in a velvet glove" power of the greatest vintages but nonetheless struts its superior terroir and behind-the-scenes savoir faire with impressive panache. It is drinking nicely now with suitably rounded-off, approachable tannins, and the tertiary characters are just beginning to bring some more cerebral elements into the compote of temptingly primary black fruits. But, if you're looking to drink it in full, flamboyant swing, give it another 5-10 years in bottle and drink it over the next 20-25 years+. (LPB) 96+ Inner quote mark (3/2020)
95 points Wine Spectator
Outer quote mark This features a terrific, gorgeously delineated graphite note that runs from start to finish, letting the dark plum, black cherry and cassis fruit play out beautifully. Shows a lovely backdrop of charcoal and iron on the finish. Ever so slightly rigid, with a strong graphite expression, this is straight rather than expansive in feel, but seriously long nonetheless. (JM) Inner quote mark (3/2015)
94 points James Suckling
Outer quote mark Very perfumed with hints of minerals, currants, wet earth and stones. Full-bodied, muscular and chewy. Polished tannins, tight acidity and a savory finish. Very reserved. Muscular. In
ABOUT HISTORY : THE FOUNDATIONS
Latour was a jointly held lord's domain until the end of the 16th century, whose co-owners received rents from the farmers who cultivated the land. At that time, the property was not entirely covered by vines and yet production largely exceeded requirements. There was no proper storage for the wine and it had to be drunk within the year. The estate remained in the hands of the Mullet family until the late 17th century, and while direct use of the land gradually replaced the leasing system, the wine-making situation changed very little.
As a result of successive marriages and inheritances, Château Latour became the property of Alexandre de Ségur, who quickly acquired a considerable collection of properties in the Médoc. The château's real wine history began with the arrival of this family. Just before his death in 1716, Alexandre de Ségur acquired Château Lafite. His son, Nicolas-Alexandre, was dubbed the « Prince of the Vines » by Louis XV. President of the Parliament of Bordeaux, he further enlarged the family's estates in 1718 with the acquisition of plots from Mouton and Calon.
GOLDEN AGE
In the early 18th century, England's aristocracy and wealthy middle classes developed refined tastes, particularly for wine, from Bordeaux, Oporto, Jerez and other southern vineyards. Wine exports had been restricted by various blockades imposed by the wars, but now enjoyed a period of relative freedom and trade with Bordeaux grew rapidly. This new economic environment also changed the structure of the Médoc estates which expanded and became of increasing interest to the local bourgeoisie and the parliamentary nobility. Very quickly, the wines of the best estates, including Château Latour, stood out in terms of quality and price. In 1714, a barrel of Latour was worth four to five times more than a barrel of typical Bordeaux wine. By 1729, the ratio had risen to thirteen and by 1767 to twenty. Recognition of Château Latour was already very well-established.
As a result of this flourishing trade, the estate gradually came to specialise in wine production, with 38 hectares of vines in 1759 and then 47 hectares by 1794. Remarkably detailed records of this period are available, kept by the estate's stewards, who regularly corresponded with the owners; there is also a wealth of often highly entertaining anecdotes about life at Château Latour.
ABOUT NEW ERA
Under the chairmanship of Frédéric Engerer, Hélène Génin is the property's Technical Director, joining the Cellar Master, Pierre-Henri Chabot, and Vineyard Manager, Domingo Sanchez, in an ongoing quest for perfection. This quest is upheld by the efforts of everyone in the seventy-strong team working at Château Latour, in the vineyard and the winery. A wide variety of experiments is constantly being carried out in order to judge the suitability of new procedures. This might for example involve biodynamic methods or new traceability systems, the quest is always for precision, quality, respect of the environment, and awareness of new issues.
CHATEAU LATOUR by FREDRIC ENGERER
ASK JAMES SUCKLING ABOUT CHATEAU LATOUR