Chateau Lafon Rochet
CHATEAU LAFON ROCHET 2012 - Saint-Estèphe 4ème Grand Cru Classé - France - Red Wine
Sale price

RM 360.00

Regular price

RM 0.00
Fast Delivery. With Order Tracking
Share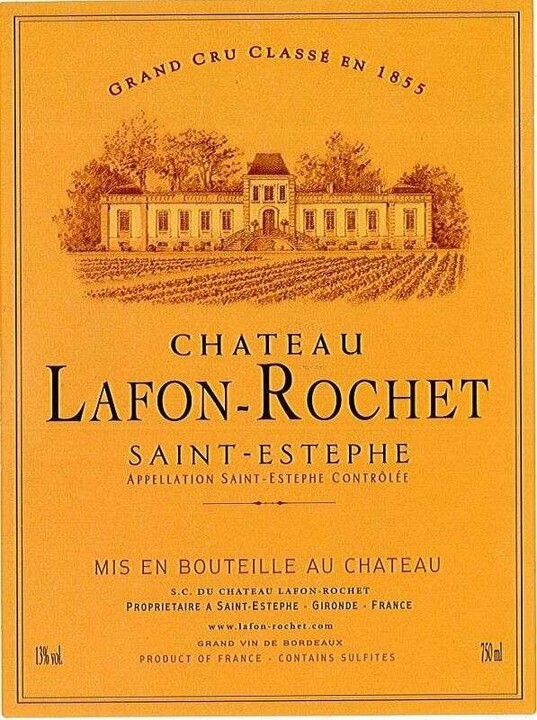 Country : France
Region : bordeaux - Saint-Estephe
Type : Red
Year : 2012
Volume : 75 cl
WINE CRITICS JAMES SUKCLING (91)
: This is extremely floral and flamboyant on the nose for the vintage. Medium to full body, good fruit and a fresh, firm finish. Nicely done. Drink or hold. Grape variety: 55% cabernet sauvignon, 40% merlot, 5% cabernet franc.Intensity: full-bodied .
90-92 points Robert Parker's Wine Advocate :
The opaque purple-hued 2012 Lafon Rochet reveals plenty of incense, blueberry, black raspberry and spring flower notes intermixed with a hint of forest floor. Rich and medium to full-bodied, it is a complete wine from beginning to end. It may tighten up once it's in bottle, but this wine has 15 or more years of cellaring potential. This superb effort is a major sleeper of the vintage. Made from a final blend of 54% Cabernet Sauvignon, 41% Merlot and 5% Petit Verdot, it boasts 13.5% natural alcohol and was made by Basile Tesseron, whose family owns this chateau as well as the well-known Pontet Canet. Like his uncle Alfred, Basile has moved to biodynamic farming.
(4/2013)
88-90 points Wine EnthusiasT : Barrel sample. This is a juicy wine that revels in its black-currant flavors. It's a rich, fruity wine that also offers some firmer tannins.
(4/2013)

ABOUT THE WINERY
: The history of this château can be traced back to 1650 and the marriage of Antoinette de Guillemottes and Etienne Lafon, which produced the name Lafon Rochet. Some 150 years later, the château is still held to be one of the largest producers of Saint-Estèphe. Its subsequent history features such trials as the French Revolution and the phylloxera blight, but the château overcame them all and was ranked 4e grand cru classé in 1855. The château changed hands a number of times at auction until it was bought in 1960 by Guy Tesseron who ran it with his son Michel and sister Princess Caroline Poniatowska. Michel's grandson, Basile Tesseron, who has been at the helm of the château since 2004 and is therefore part of a new generation, is passionate about winemaking and defines his work as a labour of patience. He runs his domaine along traditional lines and pays particular attention to his vines because for him, "the vine is king!". The vineyard now employs biodynamic management techniques and is contemplating certification.
ABOUT VINTAGE 2012 by ANDREAS LARSSON
ABOUT LAFON-ROCHET :BEST OF WINE TOURISM 2019 "