Chateau La Lagune
CHATEAU LA LAGUNE 2010 - Haut-Medoc Grand Cru Classe - France - Red Wine
Sale price

RM 560.00

Regular price

RM 0.00
Fast Delivery. With Order Tracking
Share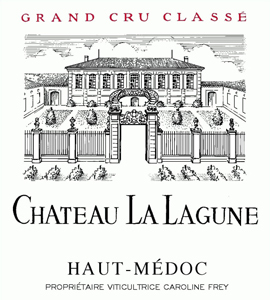 Country : France
Region : Bordeaux - Haut-Medoc
Type : Red
Year : 2010
Volume : 75 cl
TASTING NOTES
: The wine releases intense aromas of blackcurrants, leather and wood. On the palate, it reveals fine concentration with long, elegant tannins. Grape variety: 5% Cabernet Sauvignon, 65% Merlot, 30%..
ROBERT PARKER'S
A beautiful deep purple color as well as sweet aromas of incense, charcoal, black fruits, and a hint of black truffles are found in this deep, medium to full-bodied 2008. With pure fruit, good acids, and finely grained, ripe, well-integrated tannins, this impressively endowed, yet unevolved offering may compete with La Gaffeliere's fabulous 2005, and should age for 20-25 years.
Range: 91-93+
.
JAMES SUCKLING :
92-93 What a lovely texture to the wine, with super soft and supple tannins and blackberry and currant character. Round and juicy. One of the softest and most supple 2010s. It tastes more like a 2009 in style. 50% Cabernet Sauvignon , 40% Merlot, and 10% Petit Verdot.
(4/2011)

CONNOISSEURS GUIDE :
One of the highlights of this year's Union des Grands Crus de Bordeaux event was this lovely 2008 from La Gaffelière. A deep and wonderfully polished wine, it is bursting with impressively continuous fruit with sweetening complements of neatly placed oak making the picture complete. Its unobtrusive, beautifully fit tannins provide proper structure yet still allow ongoing fruit to show through, and, there is no doubt that the wine will age for a good many years despite having a friendlier face than young claret often exhibits.
ABOUT THE WINERY
Having settled in Saint-Émilion in 1705, the Malet Roquefort family of Domaines Comte de Malet Roquefort has a history in Bordeaux spanning more than three centuries. A record of vines being planted on this land in Gallo-Roman times shows an even longer history of viticulture, and was confirmed in 1969 by Comte Léo de Malet Roquefort who discovered ruins of the Gallo-Roman Villa du Palat with mosaics depicting vines plantings. Château La Gaffelière, which gained status in 1954 as a Saint-Émilion Premier Grand Cru Classé, is the original estate of the Malet Roquefort family. In 2001, the family united three estates, Château La Gaffelière, Château Chapelle d'Aliénor, and Château Armens, under a single brand: Domaines Comte de Malet Roquefort. Later, in 2008 Château La Connivence also joined the Domaines. Today, the Domaines Comte de Malet Roquefort estates include: Château La Gaffelière, Château Chapelle d'Aliénor, Château Armens, and Château La Connivence. Founded on the four guiding principles of excellence, elegance, authenticity, and independence, the Malet Roqueforts have passed on their traditions, generation after generation, and today Alexandre de Malet Roquefort is at the helm of Domaines Comte de Malet Roquefort. Like his ancestors, he shares a passion for wine and for the Saint-Émilion terroir which they call home.
INTERVIEW OF CARLINE FREY OWNER OF CHATEAU LA LAGUNE - VINTAGE 2011 FOR REFERENCE ONLY